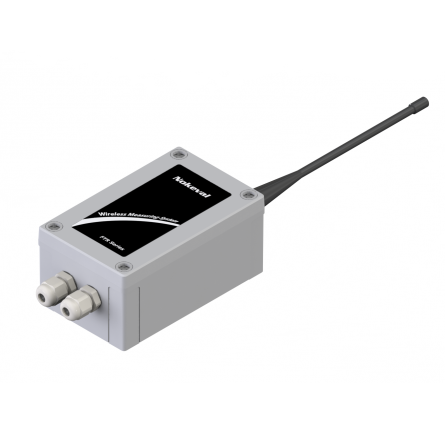 FTR262
FTR262 is a wireless transmitter that has a universal input and can be powered by using batteries or an 8…30 VDC power supply. The wireless concept and tight enclosure (IP 65) enable easy commissioning, installation and system expansion even in difficult locations and installation sites.
The transmission interval of the FTR262 is programmable from five seconds to five minutes. The device supports the following inputs: Pt100, Ni, Cu, all thermocouples (mV + cold junction temperature), ohms, millivolts, milliamperes and volts (up to 100 V). FTR262 operates in the unlicensed 433.92 MHz frequency band, so it can be used freely in areas where this so-called ISM frequency band is in use, e.g. almost everywhere in Europe.
If you need a longer range or remote reading for transmitters where it is not possible to use mains power, then look at our Solid-Sky devices.
Product code: 93212
Ask for an offer
User Manual
FTR262 Manual EN

Environment
Operating temperature: -30…+60 °C
Storage temperature: -40…+70 °C
Protection class: IP 65
Enclosure material base: PC cover: ABS
Dimensions
Enclosure: 80 mm x 130 mm x 60 mm (WxHxD)
Antenna: 178 mm, Ø 8…16 mm
Operating voltage
2 x 1.5 V LR6 (AA) alkaline battery or
External 8…30 VDC voltage supply
Input
Pt100

Measuring range: -200…700 °C
Accuracy 0.05 % of the reading + 0.25 °C
Thermal drift 0.02 °C/°C

Ni100

Measuring range: -60…180 °C
Accuracy 0.05 % of the reading + 0.25 °C
Thermal drift 0.02 °C/°C Cu10
Measuring range: -200…260 °C
Accuracy 0.05 % of the reading + 0.25 °C
Thermal drift 0.02 °C/°C

Thermocouples

Accuracy of the cold junction sensor depends on the operating temperature: 0…40 °C ±0.75 °C -30…60 °C ±1.5 °C
Thermocouple measurement see mV mV
Measuring range: -30…2,000 mV
Accuracy 0.05 % of the reading + 0.01 mV
Load >1 MΩ

V

Measuring ranges -600 mV…100 V
Accuracy 0.05 % of the reading + 0.01 V
Load >1 MΩ

mA

Measurement range: 0…25 mA
Accuracy 0.008 mA
Thermal drift 50 ppm/°C
Load 50…80 Ω
Operating voltage 2 x 1.5 V LR6 (AA) alkaline battery or an external 8…30 VDC voltage supply
Radio transmitter
Antenna connector: 50 ohm BNC female connector

Standard antenna a quarter-wave whip antenna (BNC connector)

Frequency band: License-free 433.92 MHz. Sub-channel f in accordance with the ERC/REC/70-03
Maximum range:

Up to 500 m in an open range
Indoors 20…100 m (typically)
Regulations
EMC Directive:

EMC immunity to EN 61326
EMC emissions to EN 61326, class B
R & TTE directive:

EN 300 220 class 3, transmitter power class 8 (10 mW)
EN 301 489
EN 300 339