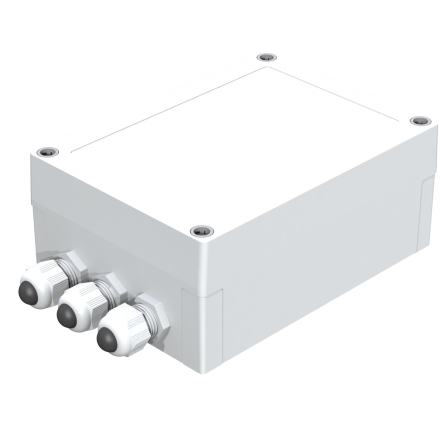 Solid-Sky-2Pro
Solid Sky is a versatile wireless device that is easy to install and set up and also has a wide radio range. Solid-Sky has durable batteries, but you can also connect an external power supply to it. With the help of Solid-Sky, you can occasionally supply power to e.g. two two-wire 4-20 mA transmitters, even if you only use the Solid-Sky transmitter with batteries.
The Solid-Sky-2Pro version has two mA or V inputs. If you need more inputs, check out our device Solid-Sky-2Pro-DIO-RS485.
Product code: 98965
Ask for an offer
User manual and brochure
Technical specifications
Operating temperature: -40…+60 °C
Storage temperature: -40…+60 °C, non-condensing
Protection class: IP65
Enclosure material: Polycarbonate plastic
Weight: about 850 g with the batteries
Dimensions: 130 mm (width), 180 mm (height), 75 mm (depth)
Sky radio antenna frequency: 433.05…434.79 MHz
Transmitting power: max. 10 dBm E.R.P.
Open space range: about 10 km with the maximum parameters
Battery: 4 pcs LR14 (C size 1.5 V alkaline)
External power source: 11…30 VDC, power consumption is typically a few mAs, about 100 mA max.
Inputs: 2 pcs of mA or V process inputs
Data buffering: 400 packages
More technical information can be found from the brochure and user manual.