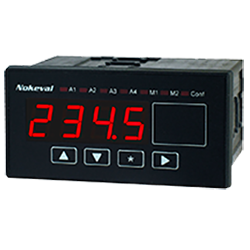 PME610 panel meter
Easy to use and reliable panel meter for temperature sensors and process signals. The PME610 model additionally has the output signal. Wide operating voltage range. Upper and lower limit alarms.
Product code: 94120
Ask for an offer
Input signals: Pt100, thermocouple K and 4-20 mA/0-10 V
Alarms:  Upper and lower limit alarm
Output signal: 4-20 mA
Available without an output signal model PME600.