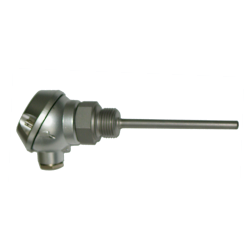 MA1 miniature connection box
Pt100 or Pt1000 sensor with a R½" process connection without the protection tube.
Ask for an offer
The sensor has a small connection box, 3-wire connection.  The measuring insert is not interchangeable. Accuracy class B.  Sensor lengths 100…250 mm,  diameter Ø 6 mm, process connection R½", material 1.5471. Note, the sensor does not fit inside the transmitter, only the ceramic coupling ring equipped with 2-wire connection screws.
A separate protection tube MAS with internal and external thread R1/2" is available for the sensor.