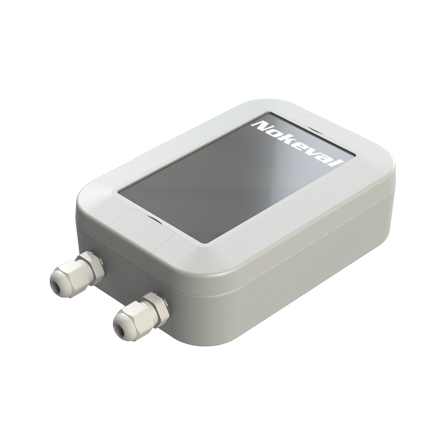 Nokeval Stable-Sky-Node
Nokeval Stable-Sky-Node is a data receiver and repeater for Nokeval Sky 433 MHz wireless data transmission technology. It receives and buffers the data packets that Nokeval Sky transmitters have sent.

Nokeval Stable-Sky-Node is housed in a watertight (IP66) and impact resistant plastic enclosure. The receiver requires 12..24 VDC power supply and is connected to a computer or PLC via RS-485. Nokeval SCL or Modbus RTU protocol is used for data transmission between the receiver and the computer. Stable-Sky-Node has four diagnostic LEDs.
Power supply is not included.
Ask for an offer
User manual and brochure
Environment
Storage temperature             -40…+70 °C
Operation temperature        -30…+60 °C
Operation humidity                0…100 %RH
Protection class                        IP 66
Enclosure material                  Plastic (PC+ABS)
Compatibility                            Sky series devices
Dimensions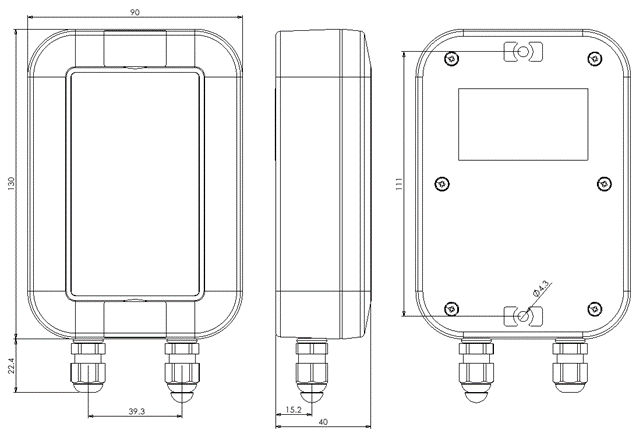 Radio
Antenna                                       Internal
Frequency                                   433 MHz
Transmitting power                max 10 dBm E.R.P.
RS-485 serial connection
Connector                                   4-pin terminal block combined with power supply, terminal 3 D1, terminal 4 D0.
Maximum cable length is 1000 m
Protocol                                       Nokeval SCL, Modbus RTU, Nopsa
Baud rates                                  300, 600, 1200, 2400, 4800, 9600, 19200, 38400, 57600, 115200, 128000, 230400 bits/s
Modbus parity                           8N1, 8N2, 8E1, 8O1
Power supply
Connector                                   4-pin terminal block combined with RS 485, terminal 1 +, terminal 2 -.
Voltage                                         12…24 VDC
Current requirement             50 mA
Settings
Connection                                 RS-485 or USB
Protocol                                       Nokeval Meku
Software                                      Mekuwin for Windows