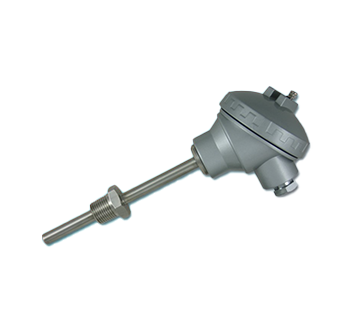 PPTH sensor with a process connection
A Pt100 sensor in a protection tube and collar section with an interchangeable Pt100 measuring insert. Optionally a 3/4-wire connection with a coupling ring or a 2-wire transmitter with HTB230.
Ask for an offer
The purpose of the collar section (145 mm) is to move the connection box outside the insulation. An interchangeable Pt100 measuring insert is in a protection tube. The sensors are supplied with a connection ring with 3/4-wire connection, or with a transmitter 4-20 mA, model HTB230. Sensor lengths  100…400 mm, protection tube diameter Ø 10 mm, process connection G1/2″ (R), material 1.4571. Maximum temperature +400°C.
Accuracy class A (±0.15 °C), 4-wire.
If the collar section is not needed, choose model PPTK.