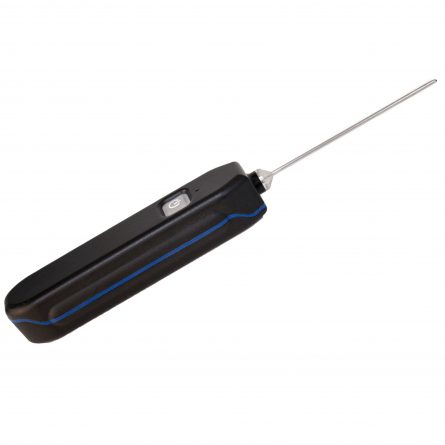 Ovasense Neo
A model equipped with a Pt100 temperature sensor probe and Bluetooth® connection for measuring the interior temperature of products.
Nokeval Ovasense Neo product series devices are Bluetooth® Low Energy compatible measuring devices designed to be used together with the Nokeval Ova mobile application.
Product code: 97750
Ask for an offer
Environment
Storage conditions -40…+60 °C, relative humidity 5-95 %, non-condensing
Operating conditions: -20…+45 °C, relative humidity 0-100 %
Protection class: IP65
Dimensions
Weight: Approx. 65 g
Exterior dimensions: 224 x 28 x 23 mm
Method of measurement
Sensor: an 80 mm x 2 mm stainless-steel probe, Pt100 sensor element inside the tip
Measuring range: -200…+600 °C, practical range -50…+200 °C
Accuracy:

±0.5 °C within range -30…+100 °C, when device temperature is +5…+45 °C and stable
±1 °C within range -40…+120 °C, when device temperature is +5…+45 °C and stable
Power source
Battery: 1.5 V type LR03 (AAA) alkaline battery, "heavy-duty," not user-replaceable
Typical battery life: 1 year in normal use. Normal use is a maximum of 40 measurements per day with one measurement lasting 30 seconds.
Radio transmitter
Type: Bluetooth® Low Energy, version 4.1, internal chip antenna
Compatibility: Ova® and Fredman Pro mobile applications
Conformity
Standards: EN 61326, ETSI EN 300 328, ETSI EN 301 489