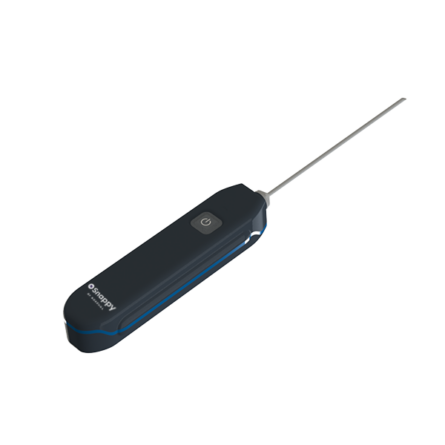 NSnappy® Sense LWEU-N probe thermometer
NSnappy® Sense is a probe thermometer for the effortless measurement of internal food temperatures.
NSnappy® Sense is a food-safe and reliable wireless probe thermometer for measuring the temperature of food products. NSnappy® Sense relays measurement data automatically to the NSnappy® service over a LoRaWAN radio connection. The measuring device can be used with any terminal device equipped with an internet connection.
In normal use, NSnappy® Sense operates for more than a year on its battery. The measuring device comes with the NSure continuous warranty for IoT measuring devices, which involves calibrating the unit regularly and replacing the battery.
Benefits and features
The thin and durable probe sensor provides fast response time
Automatic transmission of measurement data
Easy to use
Food-safe
A stainless steel measuring probe
Easy to keep clean
Does not require a mobile app or Bluetooth connection
Works with all devices with an internet connection and access to the NSnappy® service with a browser
Ask for an offer
Brochure and User Manual
NSnappy Sense LWEU N Brochure EN

User Manual NSnappy Sense series
Technical information
Environment
Storage conditions: -40…+60°C, relative humidity 5-95%, non-condensing
Operating conditions: -20…+45°C, relative humidity 0-100%
Protection class: IP65
Enclosure material: PC+ABS (Bayblend® T88-4N)
Dimensions
Dimensions: 224 x 28 x 23 mm
Temperature measurement probe
Probe: 80 mm long, 2 mm diameter, hollow stainless steel probe with sharp tip
Sensor: Pt100 sensor element inside of the probe tip
Measuring range: -50…+200°C (theoretical Pt100 linearized range -200…+600°C)
Accuracy: ±0,5 °C within range -30…+100 °C, when device temperature is +5…+45°C and stable
Measuring interval: About 5 seconds
Radio connection
Description: LoRaWAN standard, EU 868 MHz frequency range
Transmitter module: Murata ABZ-093 LoRaWAN modem
Antenna: Internal
Compatibility: The device that uses a LoRaWAN radio connection requires an NSnappy® Hub LoRaWAN base station to function
Frequency: 863-870 MHz (LoRaWAN 1.0.2 EU band)
Power: Max +14 dBm E.R.P.
Range: Depends on environment, indoors: in good conditions up to hundreds of meters, outdoors: line-of-sight up to 10 km
Power supply
Type :3.6 V lithium thionyl chloride primary battery, not user replaceable
Battery life: At least 1 year with 20 minutes of use per day
EN Standards