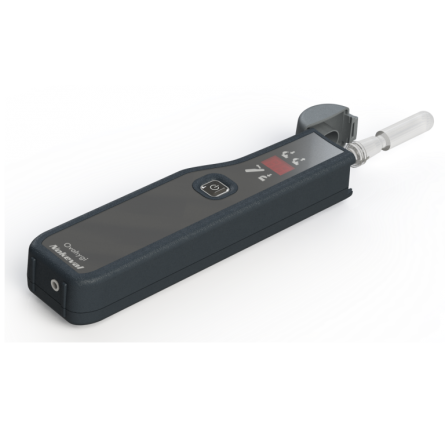 Ovahygi Neo ATP luminometer
A quick ATP luminometer with a Bluetooth® connection for ATP surface hygiene measurements. This device is special because of its wireless data transfer and seamless operation with the Ova mobile application. Ovahygi uses Hygiena UltraSnap swabs. Ovahygi analyses the sample in about 40 seconds, including the calibration time.
Product code: 97666
Ask for an offer
User Manual
Ovahygi Neo Manual EN

Environment
Storage temperature: +5…+40 °C
Operating temperature: +20…+30 °C
Relative air humidity: 5-95 %, non-condensing
Protection class: IP20
Dimensions
Weight: Approx. 190 g, not including swab
Outer dimensions

Width: 47 mm
Height: 198 mm
Depth: 27 mm
Measuring method
Description: Luminometry based on a photodiode.
Measuring time: approx. 15 seconds
Measurement unit: RLU (Relative Light Unit, where 1 RLU is roughly equivalent to 1 fmol ATP)
Display resolution: 1 RLU
Measuring range: 0…99,999 RLU
Measuring noise: ±5 RLU
Measuring accuracy: ±20 % ±5 RLU
Sampling method
Single-use swab: Hygiena UltraSnap ATP surface hygiene sampling swab
Power source
Internal battery: 1.5 V type LR6 (AA) alkaline cell, "heavy-duty."
Typical life span: 3 years in normal use. Not user-replaceable. Replaced in the periodic maintenance.
User interface
Display: Two-digit 7-segment-LED
Power button: Tactile silicone rubber switch
Internal radio transmitter
Type: Bluetooth® Low Energy, version 4.1
Antenna: Internal chip antenna
Compatible software: Nokeval Ova mobile application
Conformity
CE marked
Standards: EN 61326, ETSI EN 300 328, ETSI EN 301 489