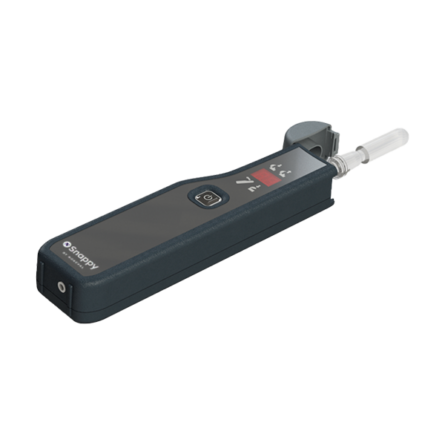 NSnappy® Hygi ATP luminometer
ATP luminometer
NSnappy® Hygi analyzes the level of contamination on surfaces by using ATP luminometry method.
You get an analyzed result in seconds, and the data goes to NSnappy® cloud service without any manual recording. The device uses LoRAWAN connection. Hygi is compatible with Hygiena UltraSnap swabs.
Regular maintenance and battery replacement service are included.
Ask for an offer
Brochure
Brochure NSnappy® Hygi LWEU-N

Environment
Storage conditions: +5…+40 °C, relative humidity 5-95%, non-condensing
Operating conditions: +20…+30 °C, relative humidity 5-95%, non-condensing
Protection class: IP20
Enclosure material: PC+ABS plastic
Dimensions
Dimensions: 198 x 47 x 27 mm
Weight: approx. 190 g, not including swab
Measuring method

Description: ATP luminometry based on a photodiode
Measuring time: approx. 15 seconds
Measuring unit: RLU (Relative Light Unit, where 1 RLU is roughly equivalent to 1 fmol ATP)
Measuring range: 0…99999 RLU
Display resolution: 1 RLU
Measuring noise: ±5 RLU
Measuring accuracy: ±20% ± 5 RLU
Sampling method
Single-use swab: Hygiena® UltraSnap® ATP surface hygiene sampling swab
User interface
Display: Two-digit 7-segment-LED display
Power button: Tactile silicone rubber switch
Radio connection

Description: LoRaWAN standard, EU 868 MHz frequency range
Transmitter module: Murata ABZ-093 LoRaWAN modem
Antenna: Internal
Compatibility: Nokeval NSnappy Hubs and Cloud Service
Frequency: 863-870 MHz (LoRaWAN 1.0.2 EU band)
Power: Max +14 dBm E.R.P.
Range: Depends on environment, indoors: in good conditions up to hundreds of meters, outdoors: line-of-sight up to 10 km
Power supply

Type: 3.6 V Lithium thionyl chloride battery pack (1 x AA size)
Battery life: 3 years in normal use (approx. 100 operating hours)