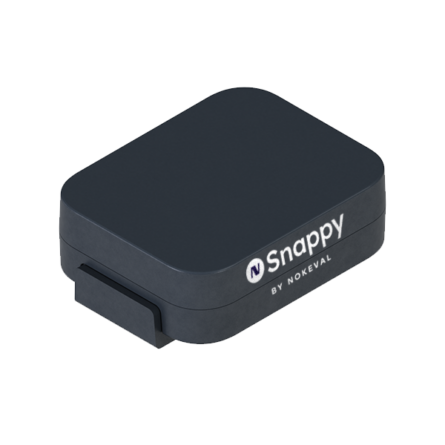 NSnappy® Kide LWEU-N temperature transmitter
NSnappy® Kide is a wireless temperature transmitter designed for reliable and accurate temperature monitoring of various storage and cold storage areas.
The NSnappy® Kide transmitter can be installed in spaces such as cold rooms, freezers, storage facilities, display cabinets, drawers or anywhere else that requires constant temperature monitoring. The device can be easily attached to the Kide-Dock installation rack. Kide-Dock includes a device identifier, which enables fast and easy calibration options without interruptions in measurement. The device relays information directly to the NSnappy® service over a LoRaWAN radio connection.
In normal use NSnappy® Kide operates on the battery for about five years. The measuring device comes with the NSure continuous warranty for IoT measuring devices, which involves calibrating the unit regularly and replacing the battery.
Benefits and features
Automatic temperature measurement and data transmission
Easy to install
Durable IP-rated enclosure
Stylish design
Long battery life
Easy and fast calibration options without interruptions in measurement
Ask for an offer
Brochure and User Manual
NSnappy Kide LWEU N Brochure EN

NSnappy Kide LWEU-N User Manual
Technical specifications

Environment
Storage conditions: -40…+70°C, without batteries, non-condensing
Operating conditions: -30…+60°C
Protection class: IP67
Enclosure material: ABS+PC, black, withstands mild acidic and basic solutions
Dimensions
Dimensions:
91 x 68 x 31 mm, including Kide-Dock
86 x 68 x 26 mm, without Kide-Dock and bumper domes
Weight: 136 g + 12 g Kide-Dock
Temperature measurement
Sensor: Internal high-accuracy semiconductor temperature sensor
Measuring range: -30…+60°C
Accuracy:
±0.2°C (-30…+60°C) typical
±0.3°C (-30…+60°C) maximum
Measuring interval: 15 minutes, default setting. Configurable between 5 – 120 minutes.
Response time:
Channel 1: 15 minutes to 90%
Channel 2: Configurable 90% response time of 30, 60, 120, 180, 240 or 300 minutes
Radio connection (LWEU models)
Description: LoRaWAN standard, EU 868 MHz frequency range
Transmitter module: Murata ABZ-093 LoRaWAN modem
Antenna: Internal
Compatibility: Nokeval NSnappy Hubs and Cloud Service
Frequency: 863-870 MHz (LoRaWAN 1.0.2 EU band)
Power: Max +14 dBm E.R.P.
Range: Depends on environment, indoors: in good conditions up to hundreds of meters, outdoors: line-of-sight up to 10 km
Power: Transmission power 10 mW E.R.P. max
Range: Line-of-sight: Depends on installation location and environment, in good conditions 10 km, Indoors: typically 30 – 300 m
Power supply
Type: 2 pcs LR6 (AA 1.5 V alkaline). For the best battery life, use high quality batteries.
Battery life: 5 years minimum with 15 minute data transmission interval and default settings with good radio link
EN Standards