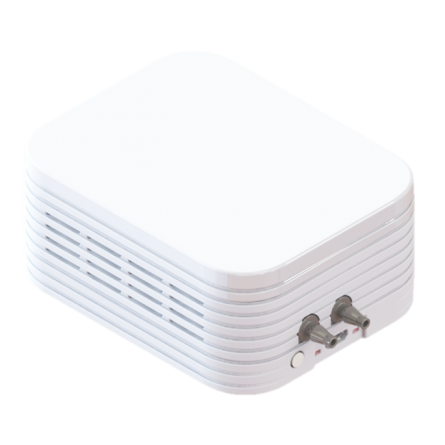 Kombi-LWEU-RHT-CO2-TVOC-DP
Kombi-LWEU-RHT-CO2-TVOC-DP is a wireless multi-sensor transmitter for measuring indoor air quality.
Kombi-LWEU measures temperature, humidity, carbon dioxide content, total volatile organic compounds (TVOC) and pressure difference.
Kombi-LWEU uses the LoRaWAN network for data transmission.
Kombi series also includes a Sky series transmitter that uses  LoRa technology instead of LoRaWAN technology and works with our Cell-Sky base station.
Product code: 99147
Ask for an offer
User Manual and datasheet
Technical specifications
Operating temperature: -30…+60 °C
Storage temperature: -40…+80 °C, non-condensing, device without the batteries
Protection class: IP20
Enclosure material: plastic (ABS+PC)
Weight: about 180 g with the batteries
Dimensions: 75 mm (width), 48 mm (height), 105 mm (depth)
Radio: LoRa radio technology, Murata ABZ-093 LoRaWAN modem, internal antenna
Radio frequency: 863-870 MHz (LoRaWAN 1.0.2 EU band)
Transmitting power: max. +14 dBm E.R.P.
Open space range: about 10 km under favourable conditions
Battery: 3.6 V lithium thionyl (3xAA)
Battery life: Typically 5 years with a 30-minute transmission interval
External power source: Micro USB type B, 5 ±0.5 V, max of 200 mA
Measurement ranges and accuracies:
Temperature

Measuring range: -40…+125 °C
Accuracy: ±0.1 °C (+20…+60 °C)

Humidity

Measuring range: 0…100 %RH
Accuracy: ±2 %RH (+0…+80 °C, 0…100 %RH)

CO2

Measuring range: 400…5,000 ppm
Accuracy: ±45 ppm + 3 %rdg
TVOC

Measuring range: 0.3…30 ppm
Accuracy: ±15 ºC

Pressure difference

Measuring range: -125…+125 Pa
Accuracy: ±0.08 Pa +3 %rdg