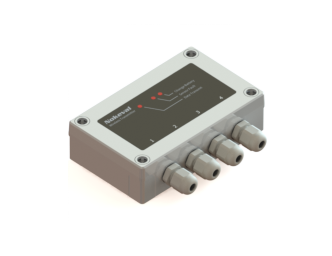 FTR264
FTR264 is a wireless 4-channel thermocouple transmitter.
Ask for an offer
User Manual
FTR264 Series Manual EN

Inputs
Thermocouples:  B, C, D, E, G, J, K, L, N, R, S and T as well as mV signal.
FTR264 screw post connector: Detachable. For 1.5 mm² connection wires
Overload protection: the input is protected from a maximum of 24 volt overvoltage.
Environment
Operating temperature: -30…+60 °C
Operating humidity: 0-100 %RH
Protection class: IP65, if all cable transits are in use or plugged
Weight: Approximately 192 g without sensors
Largest exterior dimensions:

Width 102 mm
Height 130 mm
Depth 35 mm

Cable transits 4 pcs M12x1.5, cable diameter 1.5-8 mm
Power source
Battery: 1.5 V, type LR6 (AA) alkaline battery, "heavy-duty"
Typical battery life: 1.5 years when transmission interval 90 s
Radio transmitter
Type: unlicensed 433.92 MHz ERC/REC/70-03 sub-band f
Transmitting frequency: 433.92 MHz ISM band
Transmitting power up to +10 dBm E.R.P.
Range:

Open space range up to 100 m
Indoor range typically 50…100 m

Antenna: built-in
Compatible equipment: Nokeval MTR, RTR, FTR, DPR and FT20 series 433.92 MHz radio receivers
To an external temperature sensor
Sensor: thermocouple sensors
Sensor cable length: <30 m
Measuring ranges and linearity error (in parentheses):

mV: -30…2,000 mV
TcB: 400…1,700 °C (0.3 °C)
TcC: 0…2,300 °C (0.5 °C)
TcD: 0…2,300 °C (1 °C)
TcE: -100…900 °C (0.2 °C)
TcG: 1,000…2,300 °C (2 °C)
TcJ: -160…950 °C (1 °C)
TcK: -150…1,370 °C (0.5 °C)
TcL: -150…900 °C (0.5 °C)
TcN: 0…1,300 °C (0.1 °C)
TcR: 0…1,700 °C (0.5 °C)
TcS: 0…1,700 °C (0.5 °C)
TcT: -200…400 °C (1 °C)

Accuracy: (mV) 0.05 %rdg + 0.01 mV
Accuracy: (thermocouples) 0.05 %rdg + 0.6 °C + lin. error + env. imp.
Thermal drift: 0.02 °C/°C comp. temp. 25 °C
Noise (typical, RMS) mV: 2.7 µV TcK: 0.06 °C
Input loading: (mV) >1 MΩ