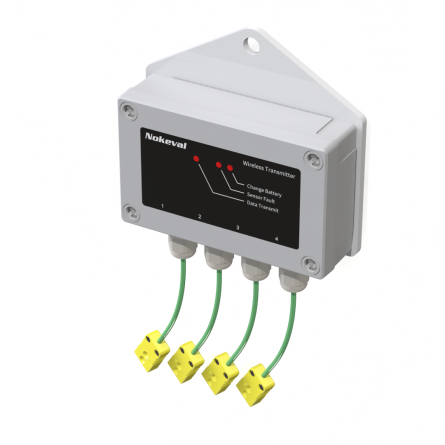 FTR264-TCK
FTR264-TCK is a 4-channel wireless thermocouple transmitter with TCK miniature connectors. A typical application is the temperature measurement of concrete casting. The strength of the concrete and the time when the boarding can be dismantled can be calculated from the development of temperature. In addition, during winter castings, the temperature can be set to give alarm information about the risk of freezing.
Ask for an offer
User Manual
FTR264 Series Manual EN

Inputs
Thermocouples K, miniature female connector
Overload protection: the input is protected from a maximum of 24 volt overvoltage.
Environment
Operating temperature -30…+60 °C
Operating humidity 0-100 %RH
Protection class IP65, if all cable transits are in use or plugged
Dimensions

FTR264-TCK weight: about 352 g without sensors
FTR264 weight: about 192 g without sensors

Largest exterior dimensions

Width 102 mm
Height 130 mm
Depth 35 mm

Cable transits 4 pcs M12x1.5, cable diameter 1.5-8 mm
Power source
Battery 1.5 V, type LR6 (AA) alkaline battery, "heavy-duty"
Typical battery life 1.5 years when transmission interval 90 s
Radio transmitter
Type unlicensed 433.92 MHz ERC / REC / 70-03 sub-band f
Transmitting frequency 433.92 MHz ISM band
Transmitting power up to +10 dBm E.R.P.
Open space range up to 100 m
Indoor range typically 50…100 m
Built-in antenna
Compatible equipment Nokeval MTR, RTR, FTR, DPR and FT20 series 433.92 MHz radio receivers
To an external temperature sensor
Sensor cable length <30 m
Measuring ranges and linearity error (in parentheses)

TcK: -150…1,370 °C (0.5 °C)

Accuracy (thermocouples) 0.05 %rdg + 0.6 °C + lin. error + env. imp.
Thermal drift 0.02 °C/°C comp. temp. 25 °C
Noise (typical, RMS) mV: 2.7 µV TcK: 0.06 °C
Input loading (mV) >1 MΩ