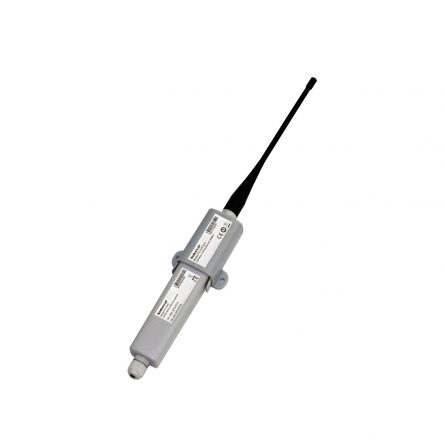 FT20-RTC433-RECEIVER
Receiver for Nokeval MTR series radio transmitters. FT20 receives the data packets sent by the MTR radio transmitters. It automatically detects the type of transmitter, so it can be used at the same time with several different types of transmitters, which can have different transmission intervals.
FT20 operates in the unlicensed 433.92 MHz frequency band, so it can be used freely in areas where this so-called ISM frequency band is in use, e.g. throughout Europe. The device is housed in a waterproof plastic enclosure.
Product code: 94701
Ask for an offer
Radio
Antenna connector: 50 Ω BNC female connector

Antenna a whip antenna with a BNC connector

Max input power: +10 dBm
Frequency band: License-free 433.92 MHz ERC/REC 70-03 sub-channel f
Buffer memory: 96 last receptions
RS-485
Connector 4-pin screw post connector connected with the power supply. Pin 1 +, pin 2 gnd, pin 3 D1, pin 4 D0
Maximum cable length 1,000 m.
Protocols Nokeval SCL, Modbus RTU and Nopsa. Baud rates 300, 600, 1,200, 2,400, 4,800, 9,600, 19,200, 38,400, 57,600, 115,200, 230,400 bits/s
Modbus parity 8N1, 8N2, 8E1, 8O1
Power supply
Connector: 4-pin screw post connector connected with RS-485. Pin 1 +, pin 2 -.
Voltage: 8…30 VDC
Power consumption: 50 mA
External power supply for model FT20-RTC433-REPEATER
Voltage range: 100…250 VAC
Frequency: 50…60 Hz
Max. power consumption 150 mA
Protection class: Class II
Power plug: Europlug
Enclosure: The power supply is designed for indoor use and must not come into contact with water or dust.
Settings
Connection: RS-485 or POL
Protocol: Nokeval SCL-Meku 1
Software: Mekuwin for Windows
Environment
Operating temperature: -30…+60 °C
Storage temperature: -40…+70 °C
Humidity: max. 90 %RH non-condensing
Protection class: IP65
Dimensions: Length 379.6 mm, incl. the antenna Width 60.2 mm Height 32.5 mm
Weight: 123 g