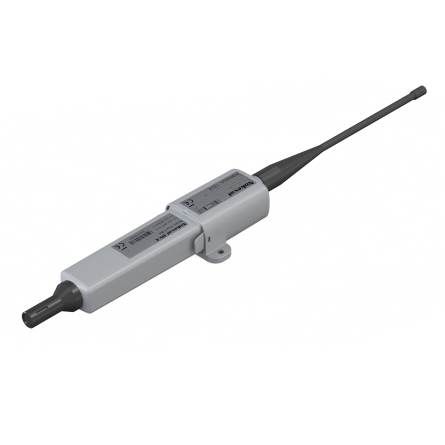 Flex-Sky-T-RH
Flex-Sky-RHT is a wireless LoRa transmitter with an internal Pt100 sensor and an external capacitive humidity sensor. Thanks to LoRa technology, the transmitter has excellent radio coverage, up to 10 km in open space.
The two-part design of the transmitter allows uninterrupted calibration changes for the measuring module.
The device consists of two parts, a measuring part and a radio part.
Product code measuring part: 98882
Product code radio part: 97956
Product code device: 98918
Ask for an offer
User manual and brochure
Technical specifications
Temperature sensor
Internal Pt100 sensor
Measuring range: -30…+60 °C
Accuracy ±0.5 °C in range -30…+50 °C
Humidity sensor
Capacitive humidity sensor
Measuring range 0…100 %RH
Margin of error ±5 %RH between 10… 90 %RH and +5…+50 °C
Typical accuracy ±3 %RH at range +0…+50 °C
Sky radio antenna frequency 433.3…434.5 MHz
Bandwidth max. 300 kHz OBW
Maximum transmitting power 10 dBm EIRP
Open space range about 10 km with the maximum parameters
Indoor range 150–500 m
Storage temperature -40…+60 °C, non-condensing
Operating temperature -30…+60 °C
Protection class IP65
Enclosure material plastic (ABS+PC)
Battery type LR6 1.5 V alkaline AA, e.g. Energizer EN91.
Battery life 1-5 years depending on the measurement interval and amount of radio traffic. Useful life typically 2-5 years.