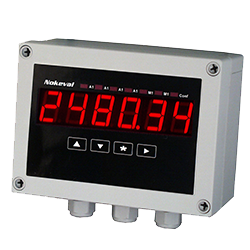 2800-2071 field display
2800-2071 small field display is designed for RS-485 and RS-232 serial signals. The serial bus is galvanically isolated from the processor and the operating voltage. For long distances or in conditions where there is a lot of interference, the RS-485 signal is reliable up to 1,000 m. 32 addressed displays can be connected to the same bus.
Two different protocols can be used in the field display, either addressed Nokeval SCL or unaddressed ASCII protocol. In Nokeval's SCL protocol, the control signal consists of the display device address, the sequence of commands to be displayed, the trailing character, and the checksum. If necessary, the checksum can be removed from the SCL protocol in the display programming mode. In the unaddressed ASCII protocol, only the characters to be displayed and the possibly required new-line character are sent to the display device.
Also available as panel mounting.
Product code: 91154
Ask for an offer
Käyttöohje
2800-2071 Manual EN

Input signals: Serial signal input RS-232 or RS-485, programmable selection.