New Cell2 base station available for the Ovaport service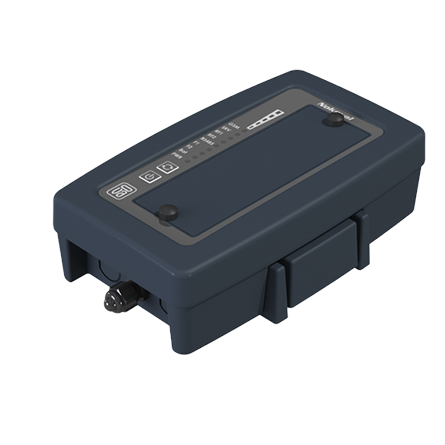 An updated version of the Cell base station, part of the Ovaport service package, will be available on October 1, 2021.
The new Cell2 base station (Cell2-Sky-Link-RS485-LTE, Cell2-Sky-Link-RS485-LAN) will replace the previous Cell1 base station (Cell-Sky-Link-RS485-3G). Cell1 base stations already in use will continue to work as normal, so there is no need to replace them with the new model mid-use.
Purpose of the Cell2 base station
Like its predecessor, Cell1, the Cell2 base station acts as a base station between the closed LoRa network and the internet. It receives measurement data – for example on air humidity, temperature or pressure – from wireless sensors using Nokeval's Sky protocol and transmits this measurement data via the GSM network to the Ovaport service.
Improvements in the Cell2 base station compared to the previous model
The internal design of the Cell2 base station has been optimized, and the device uses the more energy-efficient 4G network instead of the 3G network used by the previous model. The new model is also splash-resistant, making it perfect for outdoor use. Provision for power failure is made with the spare batteries supplied.
Compatibility of the Cell2 base station with other devices
The Cell2 base station is compatible with all sensors and measuring devices that use Nokeval's Sky protocol. Sky is Nokeval's own radio technology based on LoRa radio modulation, providing the benefits and good coverage of the efficient LoRa modulation without the dependence on LoRaWAN operator networks.
Please note! The Cell2 base station is not compatible with the MTR series transmitters on its own. However, it is possible to equip the Cell2 station with an FT20 receiver to make it work with the MTR series transmitters.
More information
Find out more about the technical features of the device and the instructions for use.