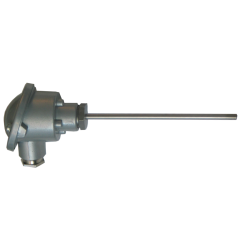 TCU & TCUA sensors
Thermocouple sensor K, maximum temperature 1,100 °C, DIN B box.
Ask for an offer
TCU sensors are intended for applications where pressure tightness is not required. At the end of the sensor element there is a type B connection box with a coupling ring,  it can be fitted with a transmitter 4-20 mA. The diameter of the mineral-insulated measuring insert is 6 mm.
Sensor lengths 100…1,500 mm,  diameter Ø 3 mm or Ø 6 mm, material 1.5471.
Sheet metal mounting flange or compression fittings available for the sensor for pipe mounting. Pressure tightness is achieved with the compression fitting and the installation depth of the sensor can be slightly adjusted. Suitable for applications where sensor removal is possible during process run.