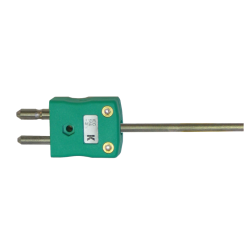 TCAS thermocouple sensor with a standard connector
Flexible mineral-insulated sensor with a standard connector.
Ask for an offer
Flexible mineral-insulated thermocouple sensors with standard size connectors. The sensor sheath is made of Inconel 600, the short-term maximum temperature is 1,100 °C.  Connectors according to IEC (green) or ANSI (yellow) standards (max. 120 °C). The minimum bending angle of the sensors is 3 x the diameter of the sensor. Sensors are also available with miniature connectors, type TCA, connectors flat. In the standard connector, the connectors are  round. An FSTC-K-F female connector can be fitted at the end of the sensor for an extension cable, which must be routed  directly to the measuring device. Copper cables cannot be used with thermocouples. A suitable extension cable type is JH-K. Sensors are also available with ceramic high temperature plastic connectors, max. 220 °C or ceramic connectors, max. 600 °C.
Sensors available in K, J, T, S/R, N thermocouple type. We mainly store the K-type.