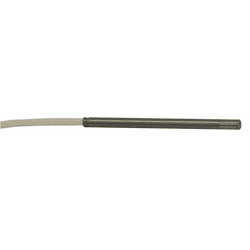 PT5T cable sensor
Pt100 sensor with a Teflon or PFA cable, especially for cold measuring points such as deep ice freezers.
Temperature measurement range up to -196…+600 °C with a PFA cable and -150…+250 °C with a Teflon cable.
Ask for an offer
Sensor for a wide temperature range. Suitable for e.g. deep ice freezers.
With a 3- or 4-wire connection
With a 50-, 100- or 150-mm-long sensor
Sensor diameter 6 mm
3, 5 or 10 m with a Teflon or PFA cable
Not all the combinations of these are available
Wide temperature range -150…250 °C  (PFA cable: -196 °C…+600 °C)
Very thin ø 1.6 mm cable without the thicker connecting portion of the cable connection
The sensor cable can be connected to the process with a compression fitting, if the protection tube is not needed