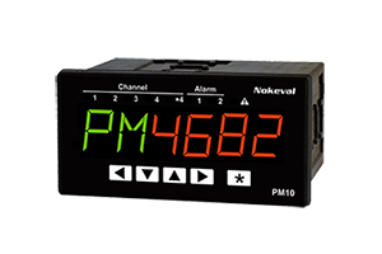 PM10 modular panel meter
PM10 is a modular 8-channel panel meter for industrial applications. It is possible to select various types of input, relay, I/O and output signal cards.
Product codes:
PM10: 96960
PM10REL2A: 96963
PM10OUT2A: 96962
PM10POW24SA: 96965
PM10UNI2A: 96961
PM20: 97476
Ask for an offer
Technical specifications
2-8 input channels, Pt100, thermocouples, 4-20 mA/0-10 V, mV
2-8 output channels, output signals 4-20 mA, 0-10 V (depending on the use of other card slots)
Versatile mathematical functions channel-specifically or between them
Outputs can monitor inputs directly or processing can be added in between, e.g. computation, conditions, thoughts, table linearisation, totalisation, taring, or peak value holding.
Multi-coloured alphanumeric 6-digit display
The display colour can be made to change and blink in the event of an alarm
The maximum of 16 alarm relays
I/O lines
MicroUSB connector for MekuWin configuration with a PC
Serial signal RS485, Modbus RTU protocol
Operating voltage 24 VDC: 21…27 VDC
Cards: Input card with two channels, galvanic isolation from output signals
Output signal card with two channels
Alarm card with two replacement relays
System description in brief
Each card has registers where you can store measurement results, set limit values, results of mathematical functions, and use them to control the output signal, displays, or alarms. The contents of the registers can be changed by measurement results of other channels, I/O lines, or mathematical functions.