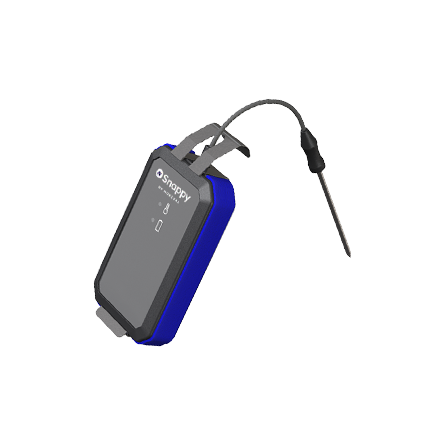 NSnappy® Cool LWEU-N
Cooling measurement device
NSnappy Cool transmitter was specifically designed for the accurate, automated measurement of the rapid chilling of products in the cook-and-chill process.

Use the standard rack to hang the device on a GN form and stick the sensor pin into the product. The device and program will automatically do the rest.

The device is equipped with a sensor, made from silicone and stainless steel, that is compatible with foods. The device and the materials used in it were specifically designed with this purpose in mind.
Ask for an offer
Brochure and User Manual
Brochure NSnappy® Cool LWEU N

User Manual NSnappy® Cool LWEU N
Environment
Storage conditions: -40…+60°C, relative humidity 5-95%, non-condensing
Operating conditions: -30…+60°C, relative humidity 0-100%
Protection class: IP67
Enclosure material: Enclosure ABS, gaskets silicone, screws stainless steel SUS304
Dimensions
Dimensions: 79 x 28 x 126 mm not including probe and cable
Weight: 192 g
Temperature measurement
Probe: 100 mm long, 4 mm diameter, hollow stainless steel probe
Cable and handle: 100 mm long rubber cable, cable and handle material food-safe and FDA
approved
Sensor: Pt1000 sensor element inside of the probe tip
Measuring range: -40…+105 °C
Accuracy: ±0,5 °C within range -30…+30 °C
Measuring interval: Normal 60 seconds, minimum about 5 seconds
Radio connection
Description: LoRaWAN standard, EU 868 MHz frequency range
Transmitter module: Murata ABZ-093 LoRaWAN modem
Antenna: Internal
Compatibility: Nokeval NSnappy Hubs and Cloud Service
Frequency: 863-870 MHz (LoRaWAN 1.0.2 EU band)
Power: Max +14 dBm E.R.P.
Range: Depends on environment, indoors: in good conditions up to hundreds of meters, outdoors: line-of-sight up to 10 km
Power supply
Type: 3 pcs LR03 (AAA 1.5 V alkaline). User replaceable. For the best battery life, use only high quality batteries
Battery life: At least 1 year when used 4 hours per day
EN standards