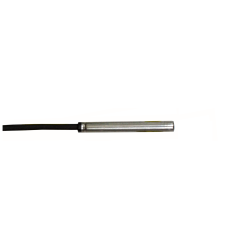 IKES PT100 sensor
Sensor with double insulation and a seamless rubber moulding (sensor + cable), except IKES-TF, which is Teflon.  The sensor has a steel protection tube  for compression fitting connection.
Ask for an offer
The sensor part of the Pt100 sensor with double insulation is moulded into a solid rubber with the cable. A thin steel sheath (AISI316) is installed on top of the sensor part for mounting.
The sensor is supplied with a 50-  or 100-mm-long protection tube.
Available cable lengths 1, 2 or 5 m with a 2- or 4-wire connection.
We store accuracy class B (±0.3 °C) sensors, A class sensors are delivered according to the offer.
Also available without the steel protection tube, model IKE, making the sensor suitable for different types of chemicals.