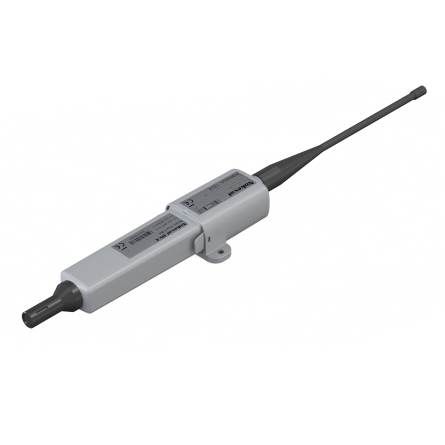 FT10-RT433-T-RH
A wireless humidity and temperature transmitter for various monitoring applications.
This module simultaneously measures the ambient temperature using its internal Pt100 temperature sensor and the relative humidity of the environment with a digital capacitive sensor element.
The two-part design of the transmitter allows uninterrupted calibration changes for the measuring module.
Product code: 95411
Ask for an offer
User Manual
FT10 Series Manual EN

Measurement of the ambient temperature
Sensor type internal Pt100 element
Measuring range: -30…+60 °C
Accuracy ±0.5 °C in range -30…+50 °C
Step response time 15 min 90 % (MovAvg=Off)
Relative humidity measurement
Sensor type capacitive element
Measuring range 0…100 %RH, non-condensing
Total error band (TEB) ±5 %RH at range 10…90 %RH and +5…+50 °C
Typical accuracy ±3 %RH at range +0…+50 °C
Step response time 10 min to 63 % 25 min to 90 % with a standard filter
Operating temperature: -30…+60 °C
Storage temperature: -40…+70 °C
Relative humidity <95 %RH, non-condensing
Protection class IP40 (modules together)
Power source
Battery 1.5 V, type LR6 (AA) alkaline battery, "heavy-duty"
FT10-RT433 radio transmitter
Type unlicensed 433.92 MHz ERC / REC / 70-03 sub-band f
Transmitting frequency 433.92 MHz ISM band
Transmitting power Max. +10 dBm E.R.P.
Open space range up to 1,000 m
Indoor range typically 50…100 m
Antenna Use only the supplied standard antenna
Compatible equipment Nokeval MTR, RTR, FTR, DPR and FT20 series 433.92 MHz radio receivers