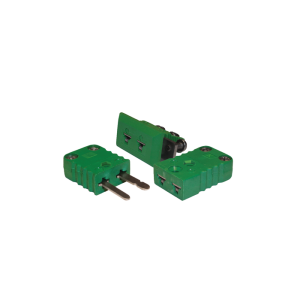 FMTC
Thermocouple connector, miniature size. Available types K, T, J, B and N.
Ask for an offer
Miniature thermocouple connectors are available according to IEC or national colour codes. Thermocouple type and polarity are marked on the connectors. The max. temperature of the plastic connectors is 120 °C and 560 °C of the ceramic ones.  Miniature connectors are flat and standard size connectors are round.
Connectors are available for thermocouples J, K T, E, R/S, male FMTC-X-M, female FMTC-X-F or as a panel model FMTC-X-FF. Ceramic connectors are available as female and male connectors only. Metal panel mounting holders suitable for plastic and ceramic connectors are available.
The connectors have screw connection for a thermocouple wire or extension cable. Portable handheld meters use a dog-type miniature connector. The connectors can be used with all thermocouple sensors such as TCT and TCR sensors.