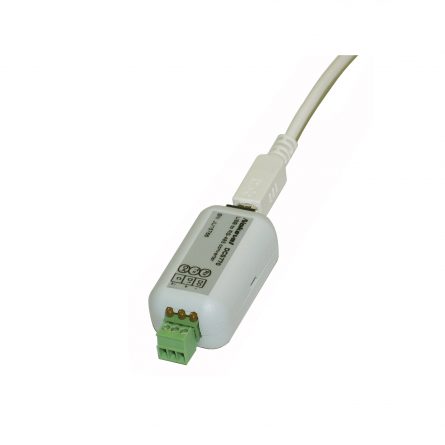 DCS770
Compact RS485/USB converter that takes operating voltage from the USB port. DCS770 converter can be used to add an RS485 serial port to a PC.
Product code: 91872
Ask for an offer
USB connection
Connection: USB 1.1 or 2.0
USB circuit: FTDI FT232BM
Power consumption: <100 mA
Connector: USB-B (USB-A-B cable included in the price).
RS-485 bus
Baud rates 300…115,200 bit/s
Data bits 5…8
Parity All options
Stop bits 1, 1.5 or 2
Bus length 1,000 m
Up to 32 normal devices on the bus or 128 1/4 load devices
Load 1/4 of the normal load (128 such devices can be on the same bus)
General
Dimensions: 56x31x25 mm
Operating temperature: 0…60 °C
Galvanic isolation: No