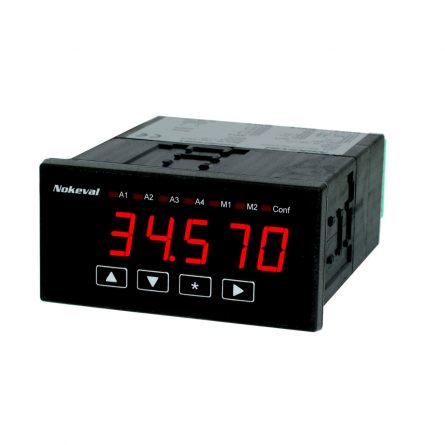 2021 panel meter
Panel meter 2021 is specifically designed for temperature sensors as well as the most common process inputs. The meter base card has three card slots, one for the input signal and two slots for an output signal, alarms, or serial signal.
Product code: 12173
Ask for an offer
6-digit processor-controlled display device
Thermocouples B, C, D, E, G, J, K, L, N, R, S and T Pt100/1000, Ni100, 0/4…20 mA, 0… 5/10 V, -10…+10 V, potentiometer
Sensor selection and scaling using the front panel
Galvanically isolated output signal 0/4…20 mA, 0…10 V
2…4 configurable alarm relays
Serial signal RS-485 and RS-232
Linearity for process signals <0.005 % of the range
Extensive operating voltages 85…240 VAC
By changing the input signal card, the meter can be changed for other types of sensors such as pulse (2051) or weighing sensors (2041), etc.